Congrats to Miss Chinatown Houston 2013, Karen Li!
August 22, 2013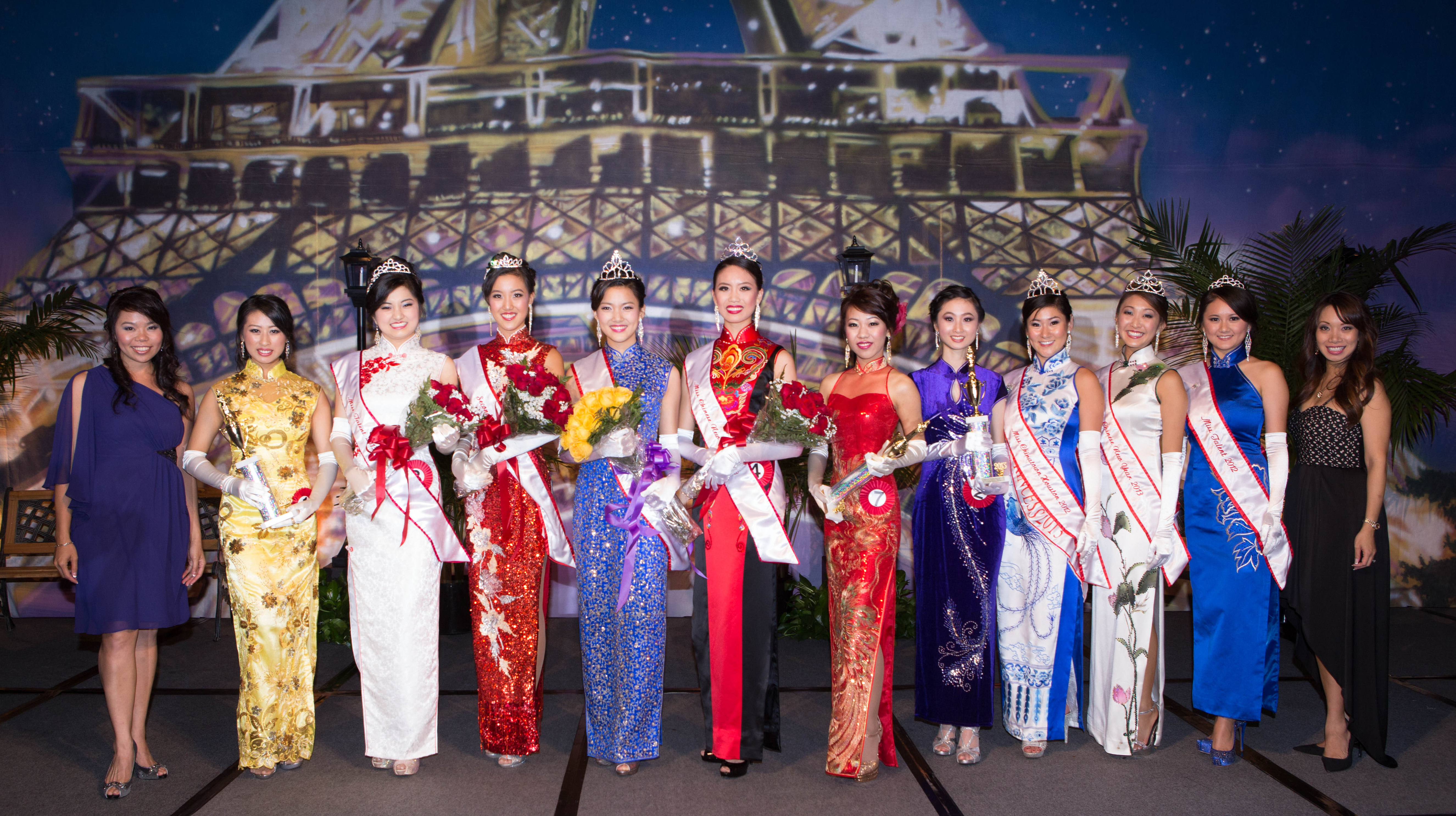 Honorary Asian American Ambassador Charles C. Foster is also Honorary Consul General of the Kingdom of Thailand. Foster and his lovely wife, Lily, joined our table this year at the Miss Chinatown Houston Scholarship Pageant. Charles, who is also the Asia Society Texas Center Chairman and incoming Chairman of Interfaith Ministries, shared that he has been working tirelessly on immigration reform, meeting with legislators and other officials. He is an internationally recognized authority on immigration law and was instrumental in keeping former Houston Ballet principal dancer, Li Cunxin, in Houston when he was detained by Chinese authorities. In the movie, Mao's Last Dancer, a biography of Li's life, Charles' character was dramatically portrayed by actor Kyle MacLachlan. Speaking of acting, Lily (Chen Ye, Lily Chen) was an established star in China's film industry when she came to Houston and studied under well-known acting teacher Cecil Pickett and acclaimed playwright Edward Albee. She met and fell in love with Charles and the rest is history!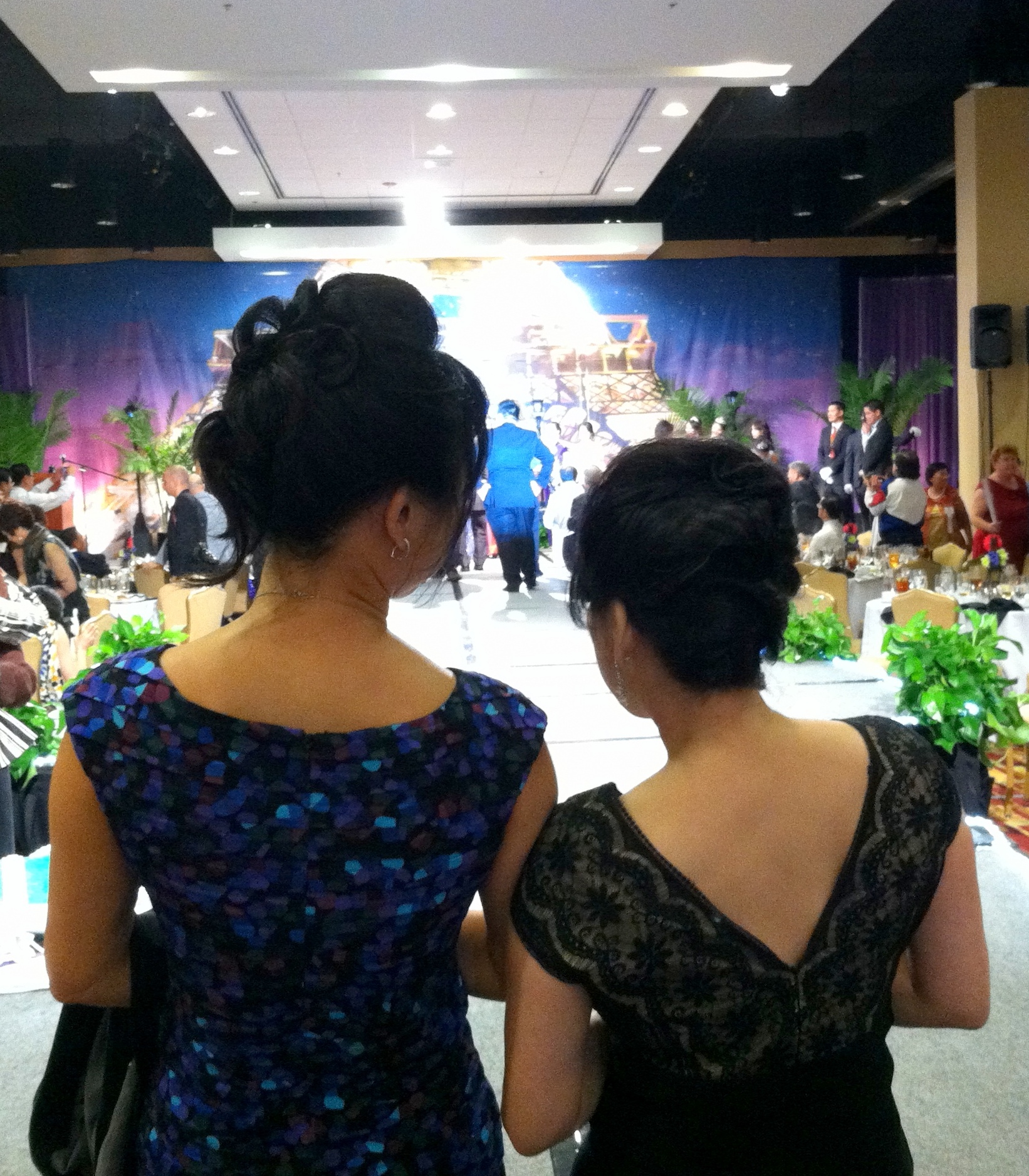 KHOU news anchor/reporter Shern-Min Chow, @ShernMinKHOU, was escorted by her son, Max. (Which 14-year-old had seconds of the rich, creamy Lobster Bisque???) Chow has been in the news field for many years and is a shining role model for our youth. When she was an associate producer at another television station in town, Shern-Min asked for a chance to cover stories. There were no other local Asian newscasters. She was denied that position and left to hone her reporting skills in San Antonio. She came back to Houston and got that on-air job with the first station! Early in her career, she was almost blown away while standing on a fiercely windy bluff reporting on a dangerous oncoming hurricane. The cameraman was blown over, yet delicate Chow managed to hold her ground! On a safer assignment, she won an Emmy for the documentary, "Hong Kong Under the Dragon."
An accomplished musician, Mr. Jiajin Ji came with his smiling wife to enjoy the pageant this year. Mr. Ji teaches violin and is a composer. His scores include "Heaven of Flower Town," "Ode to Yangzhou," "Bamboo Garden in a Dream," "Piano Quintet in E," "Four Pieces for Oboe and Piano," and contemporary works "Breeze," "The Candles," "Like a Cat," and "There Is No Time." He also composed the vocal works "Olympic Rings" and "A Home for Left-Behind Children of Migrant Workers" (commissioned for China's Project Hope). Ji's choral work, "China, My Home Forever," was chosen as the show finale for the show Lovely China by CCTV in March 2007. As an author, Ji's book Twentieth-Century Western Music Composition Technique was appraised by the Chinese Central Conservatory of Music as "an academic masterwork of extremely high value." In honor of Ji's outstanding contributions to music and his influence in the international music field, he received the special lifetime achievement award from the mayor of Houston, who proclaimed October 12, 2006, as Jiajin Ji Day. He is currently the artistic director of a cool new Asian fusion band.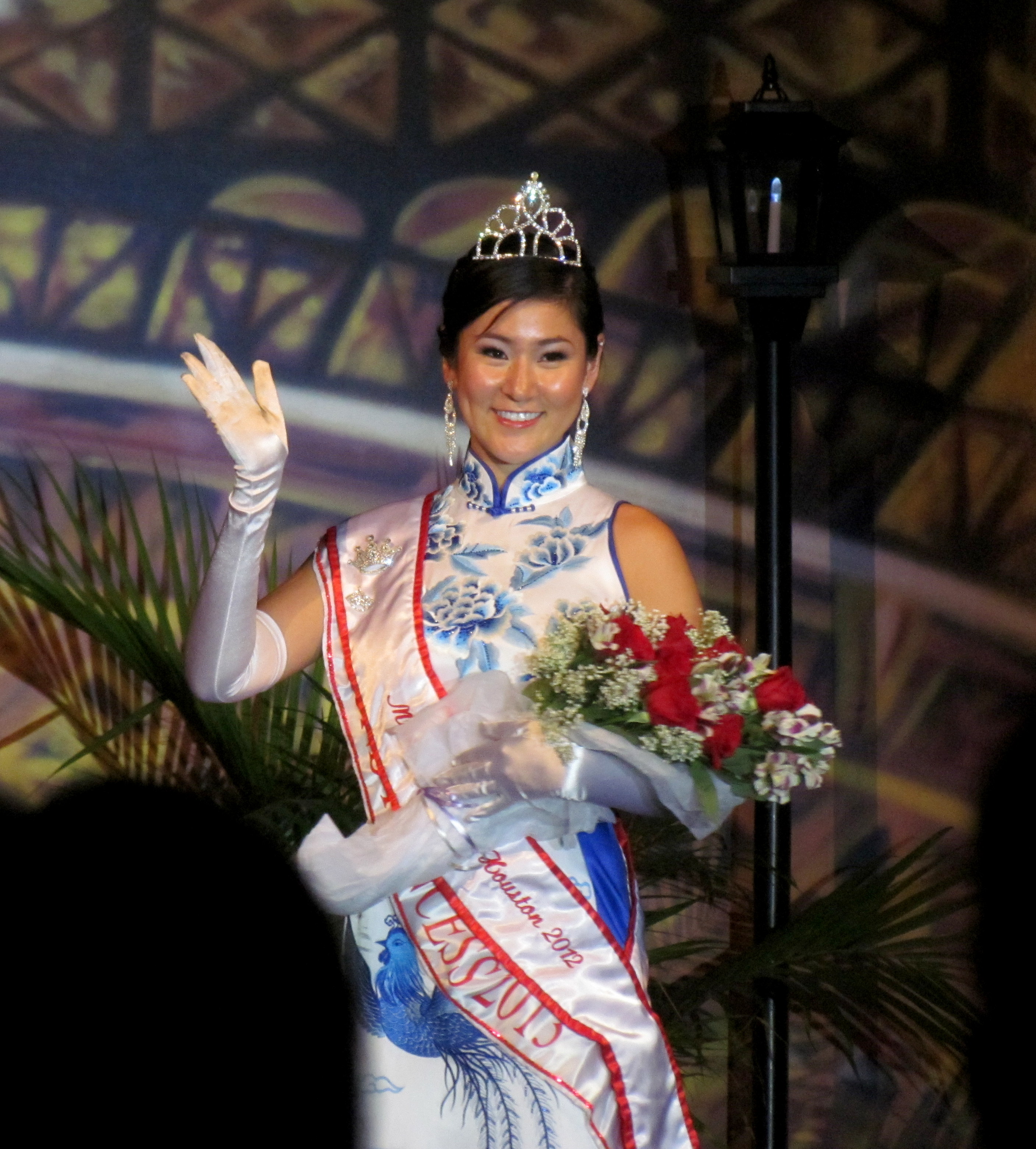 Mo-Lin Liu, and her sister, Lin-Lin Liu, MD., added enthusiasm to our table. After capturing the Miss Chinatown Houston title, Mo-Lin went on to become Mrs. Texas United Nation and Mrs. Texas America. She finds time away from being a busy real estate investor to stay active in her children's lives. Titles run in the family. Liu is Taekwondo ring coach for her 10-year-old daughter, Hayley, taking her to four Texas State Championship titles, two U.S. National Championship titles and a third place finish at this year's U.S. Open World Championship! (Hayley's trophies are taller than she is!) Hayley is also a Spelling Bee Champion. Mo-Lin slows down the pace by helping with the PugHearts non-profit rescue organization. Lin-Lin Liu is an oncologist and took a break from attending medical society meetings and being involved in fundraising events to have a relaxing evening out with her sister.
Soo Leong Liu was busy all night, ensuring that our guests enjoyed all the delightful gifts and took time to get to know each other. The Whole Foods chocolate was a favorite. Handing out the Francesca's Collection prizes was fun too! Soo and her husband leave soon on a two month road trip. They will travel the Eastern part of the United States before crossing over to Canada. The trip will be recorded on Soo's blog, SooSooSees.com, with photos, observations, video clips and interviews. A special treat will be an interview with Miss Chinatown USA when they arrive in New York City!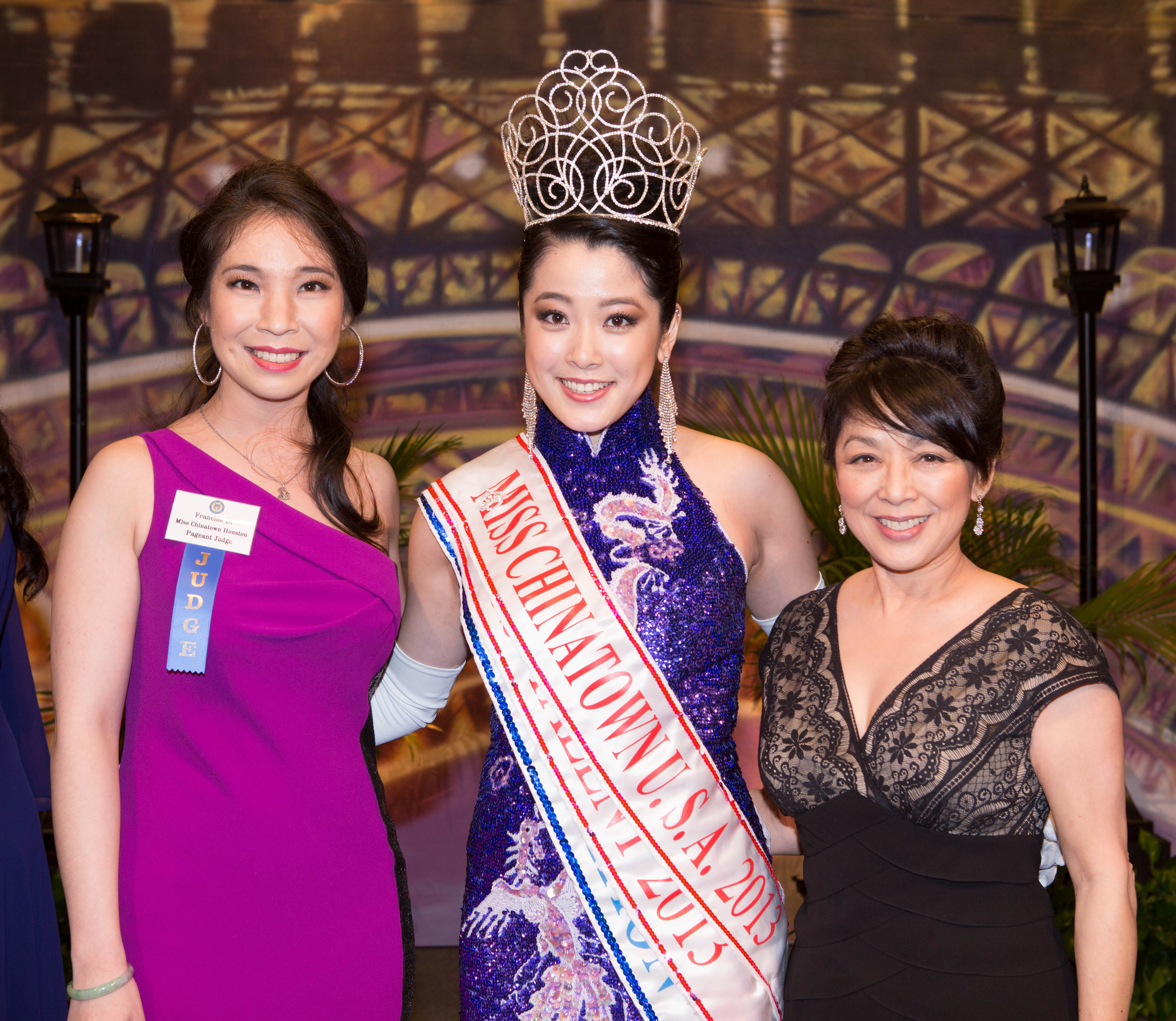 Francine Di wasn't at our table this year as she was at the pageant judges' table. She said the girls were all so talented that it made judging duties difficult. By the way, it is so nice how people's lives can connect - Lily Foster told us that Francine's grandmother was her acting teacher in China! Francine is planning a musical event for this coming March. We hope to hear more as the date approaches!
Pageant Director Tammy Su was amazing! She gave birth to a baby boy last month and truly deserved to take a break from pageant work. Instead, she came and helped Kitty So coordinate the event. Not only that, she looked "Mah-velous, Dah-ling!" Pageant Chair Linda Wu and Co-Chair Betty Gee (Tammy's mother) make an excellent team. They have always given their best to make the pageant shine!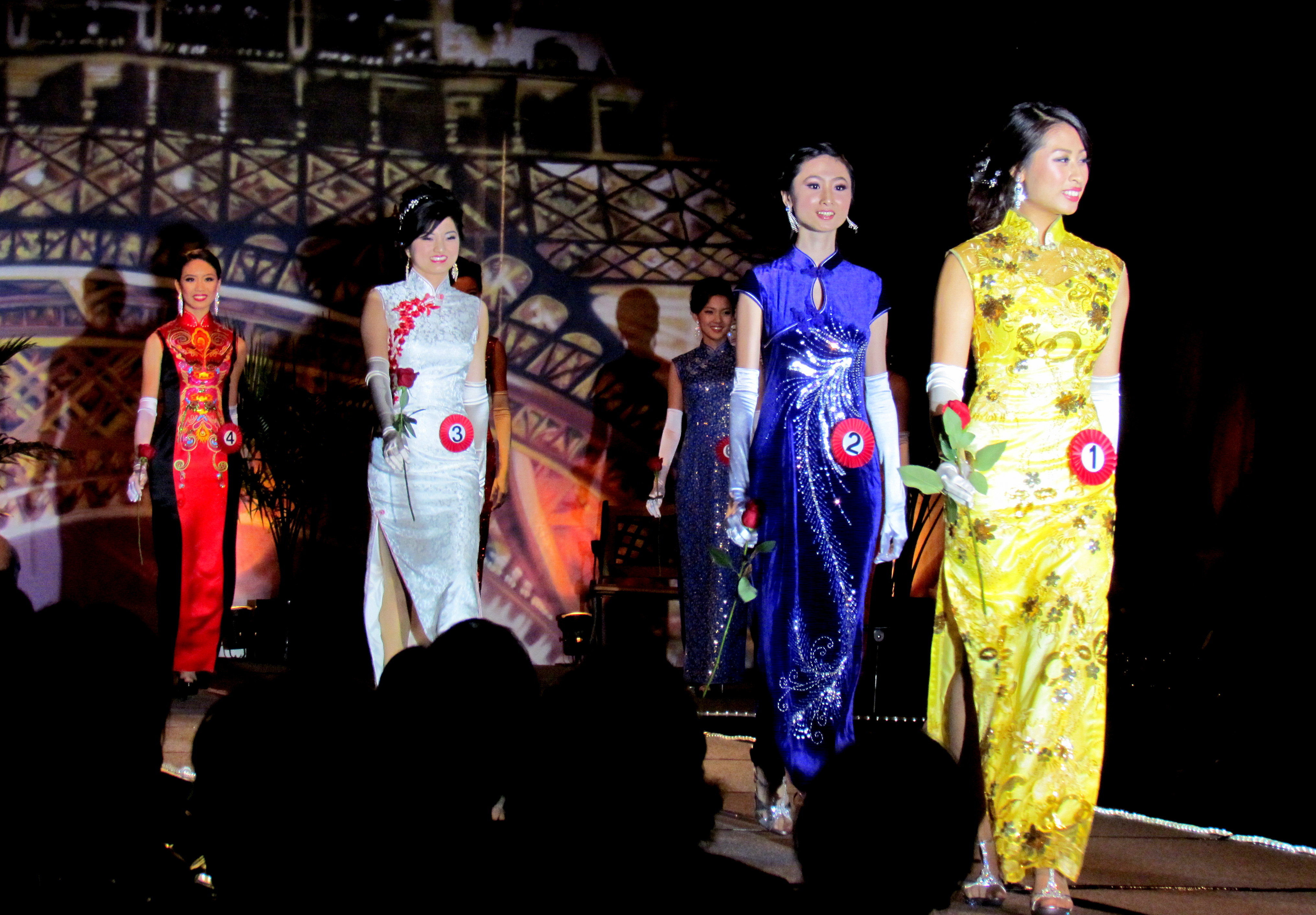 To our fantastic sponsors: "Thank you! Thank you! Thank you!" James Tang, MD is a board certified plastic surgeon who has practiced for years in Houston. Chung Wu is an advisor with the Wells Fargo Financial Network in Sugar Land, Texas. Both are longtime supporters of local community events and we thank them for their generous sponsorship of tickets for several of our honored guests. William Chow of Susan Hairstyling is a special sponsor. Not only has William been providing complimentary up-do's for our members and guests for the last three pageants, he donated big bottles of hair care products to place in the goodie bags!
The First Colony Mall store of Francesca's Collection is also a three-peat contributor. They provided the bling! A stunning necklace & earring set, a faceted jet crystal bracelet and a nicely detailed bag were a big hit as prizes for our guests. We also enjoyed viewing the Francesca's Collection fashion show during the program.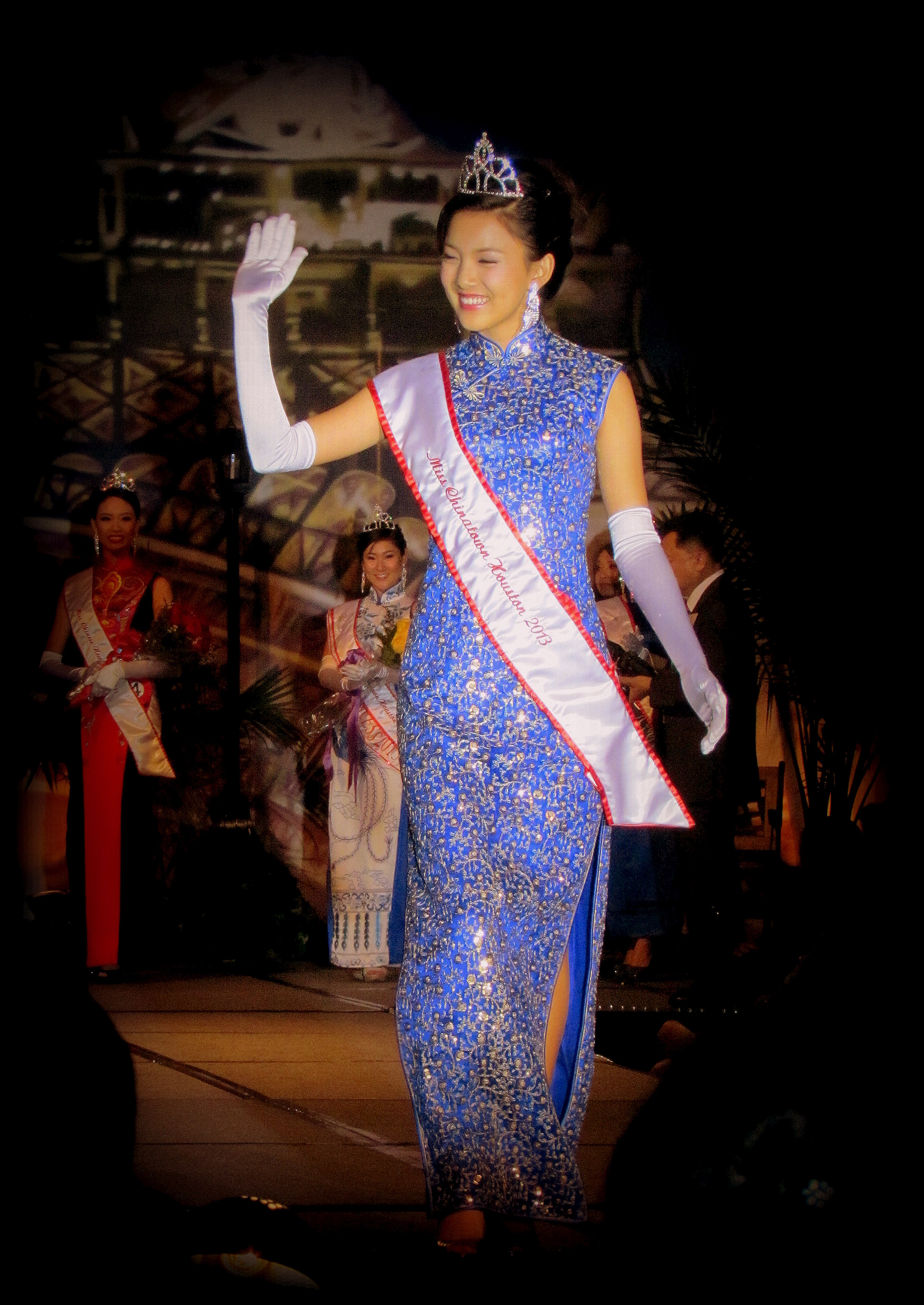 The goodie bags were chock full of wonderful surprises. Whole Foods' Sugar Land location was quite generous in their support! This year, they threw in their awesome chocolate bars in a variety of flavors - milk chocolate, dark chocolate, Belgian chocolate, toffee & sea salt, pear & almond, etc. That was in addition to sweet smelling soap sets, colorful recycle-able bags and handy gift cards!
Karen Li is the new Miss Chinatown Houston! She did a fine job, as our new titleholder is quite accomplished and lovely to boot! Karen will be a wonderful representative for our city in next year's national competition. The pageant also recognized a dazzling visitor - the reigning Miss Chinatown USA, Leah Li! Her presence at our event added quite a bit of glamour and glitz.
Master Photographer Alvin Gee of Alvin Gee Photography provided two photos for this site, while William Mei and Jiajin Ji contributed three photos on the linked Qwiki video.
Congrats to Miss Chinatown Houston Anna Zhang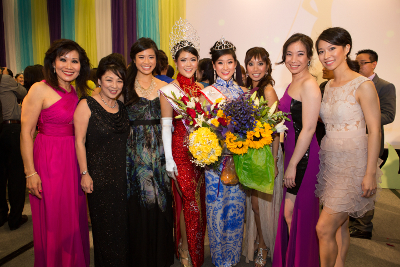 Saturday, July 21, 2012, was a very good day. For one, the Chinese community celebrated the crowning of an intelligent, talented and lovely Miss Chinatown Houston, Anna Zhang! Ms. Zhang is a 20-year-old University of Texas student who will be graduating in the spring. She will represent Houston at the Miss Chinatown USA pageant in San Francisco, California, early next year. If for any reason Anna cannot attend, Miss Chinese New Year, Kelley Wang, will go in her place. Another standout was Miss Talent, Cathy Zhen. Ms. Zhen received rousing applause for her dramatic flair in playing a Chinese instrument. After an impressive ribbon dance, Anna Zhang's answer during the Poise & Personality segment was what many felt clinched the title. Debonair co-host, John Newinn (a well-known Elvis impersonator), noted that new Houston Rocket, Jeremy Lin, is an inspirational Asian American. Zhang was asked what she hoped to see regarding Asians in the future. Anna replied that she hoped to see an Asian American as President of the United States. Talk about bringing down the house in response!
It was also the first time many in the community had their first glimpse of Steffi Hu, last year's titleholder, since she became the reigning Miss Chinatown USA in February! Our Francine Di will be bringing you more about Steffi after she interviews her during a break from Hu's busy schedule.
We would like to give a big THANK YOU to the wonderful support from area businesses! Our sponsor, Salon Gity, in Sugar Land, Texas, offered to provide AAA members updo's for the pageant and supplied all the hair care products for our table's goodie bags. A special thanks goes to William Chow, Salon Gity's master colorist and Paul Mitchell International Educator! Whole Foods added wonderfully scented bars of creamy goats' milk soap, $10 gift cards and handy recycled tote bags. As a random bonus, two of the bags had a special treat hidden under the tissue paper. Bio Skin & Laser Day Spa provided a gift certificate for a relaxing facial and Francesca's Collections wrapped up a lovely necklace & chandelier earrings! To add a bit more mystery, a beautiful cream handbag from Francesca's Collections was given to the person who guessed closest to a secret number. Jim Tang, MD, kindly donated two pageant dinner tickets. Last but not least, our thanks go to the Chinese American Citizens Alliance for the beautiful photograph of several of our members with Ms. Betty Gee, Pageant Co-Chair, Miss Chinatown USA and Miss Chinatown Houston, courtesy of Alvin Gee.
Finally, a hearty congratulations goes to AAA member Tammy Su for a fabulous job coordinating the pageant! All in all, it was an exciting evening, filled with anticipation, entertainment and celebration, along with a generous splash of glamour!
Steffi Hu wins Miss Chinatown USA 2012!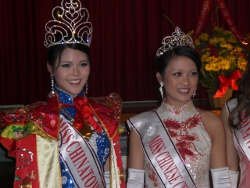 February 14, 2012
Miss Chinatown Houston Steffi Hu has won Miss Chinatown USA 2012! Woo-Hu!!
After being crowned Miss Chinatown Houston on July 30, 2011, Steffi Hu spent last year as Houston's Chinese goodwill ambassador. On Saturday, February 4, 2012, at the Palace of Fine Arts Theater in San Francisco, the Rice University student was crowned Miss Chinatown USA 2012!
Steffi and her court returned to San Francisco to be officially crowned at the Miss Chinatown USA Coronation Ball on February 10. She commanded her own float at the San Francisco Chinese New Year Festival & Parade on February 11. The parade's mission is to educate, enrich and entertain with the colorful pageantry of Chinese culture and traditions. Named one of the world's top ten parades, the event attracts over three million spectators and television viewers throughout the U.S., Canada and Asia.
CACA Houston Lodge Past President and current National Lodge Auditor, William Mei, attended the National Lodge's reception for Miss Chinatown USA and her court after the parade. Photos are courtesy of Mr. Mei.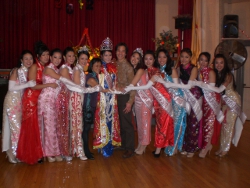 For over 55 years, young women of Chinese descent have arrived in San Francisco seeking "gold" - prizes, scholarships and titles! Winners beautifully represent the Chinese community throughout the new year. Miss Hu joins an elite group with one of our own Asian American Ambassadors, Cindy (Wu) Yen! They are two of just four Miss Chinatown Houstons who have gone on to be crowned Miss Chinatown USA. Cindy and the Asian American Ambassadors wish Steffi well in this exciting new journey!
This is the Year of the the Dragon, symbolizing strength, adventure, courage and prosperity. "Gung Hay Fat Choy!"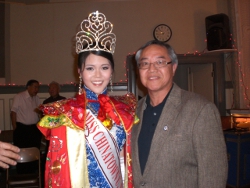 Photos courtesy of William Mei
Center for Asian Pacific American Women Leadership Summit, September 2011
Miss Chinatown Houston Scholarship Pageant, July 2011
The Miss Chinatown Houston Scholarship Pageant 2011, sponsored by the Chinese American Citizen's Alliance, Houston Lodge, was an amazing event! It is usually held the last Saturday of July and the evening started out with a pleasant surprise as each AAA member present was recognized during the welcome portion of the program. To be announced along with former Houston City Councilmember Gordon Quan and former Texas State Representative Martha Wong was an honor, and great fun to stand up and wave to the crowd of close to 600 people!

Tammy Su's team did a fabulous job of putting on the pageant and Francine Cheng took time away from a residency at The University of Texas Medical Branch in Galveston to model during the program. Guest Kristi Powers, Fox 26's weekday morning meteorologist, enjoyed the event so much that she's been dropping BIG hints that she'd love to be a judge next year!
Member Connie Chen was out of town, but her parents and sister sat at our table and asked if all the tables received goodie bags. No, our table was the only one with wonderful gift bags! Salon Gity, our fantastic sponsor, filled the bags with Paul Mitchell products, AND they provided pageant up-do's for several of our members! Francesca's Collections gifted the women with sparkling crystal bracelets, Bio Skin & Laser was kind enough to give each guest a complimentary facial or foot detox certificate and ComedySportz Houston gave a lucky guest four admissions to one of their hilarious shows!
The contestants were all so accomplished and talented that the evening went by too quickly. Chinese American Citizen's Alliance's National Convention was held the same weekend, so we were able to meet guests from all over the country. Lovely Steffi Hu won the crown and will represent our fair city at the Miss Chinatown USA Pageant in San Francisco next January. More Miss Chinatown Houston information may be viewed at misschinatownhouston.org. To view other Chinese pageants from around the world, visit www.pageantpage.com.
Herbert W. Gee Municipal Courthouse Dedication Ceremony, May 2011

Unveiling the courthouse sign


Cynthia Gee and AAA member Suzanne Gee


Judge Hartle, Jeff Gee, Cynthia Gee

A few months ago, a dedication ceremony naming the Houston Municipal Courthouse the Herbert W. Gee Municipal Courthouse, took place on the steps of the downtown courthouse. The Honorable Herbert W. Gee, Associate Presiding Judge for the City of Houston Municipal Courts, passed away March 12, 2011, after more than forty years of service in the Houston courts. Houston City Council voted unanimously to honor him in this way, noting that "His exemplary service to his community, his profession and to his peers is such that it merits this recognition." Judge Gee's son, Jeff, assisted by his Aunt Judy Chong (Herbert's sister), removed the covering over the name to a great deal of cheering and clapping. At the reception afterwards, guests admired many plaques and awards hanging on the wall in a corner of Judge Gee's court. It was truly an event as there does not seem to be any other Asian American judge being so honored.

Herbert W. Gee grew up in the north side of Houston, in an area called the Glenburnie district after the central street in one of the few areas that Chinese could purchase houses in the late 1950s. A more detailed account of his life can be viewed at www.houstontx.gov/courts/.

Photographs by Gee Family friend, Dalton DeHart


The late Judge Herbert Gee
Screening of Mao's Last Dancer, April 2011
Recently, former Houston Ballet principal dancer Li Cunxin flew in from Australia to attend a special screening of his life's story in Mao's Last Dancer, a film adapted from his blockbuster book of the same name.
| | |
| --- | --- |
| Dance of Asian America | The evening started off with graceful dancers from Dance of Asian America. Then, after watching an extraordinary life unfold, there was a question-and-answer session with Li and Charles Foster, the Houston immigration attorney who pulled out all the stops to keep the Chinese consulate from physically returning Li to China, against his will and away from his American wife. At the time the drama occurred, it became international news with paparazzi camped outside the consulate where Cunxin's wife and Foster refused to leave without him. |
| | |
| --- | --- |
| When asked by one of our members if Li keeps active in the Asian community in Australia, he explained that indeed he does! Besides participating in an Asian organization similar to Houston's Asia Society, he often shares stories about his homeland and experiences. Of course, his book and movie provide wonderful insights into Chinese culture, good and bad. His former dance partner Jamie Parker sat in the audience of several hundred and shared that Li would make Chinese dumplings and pass them around while telling stories of his earlier life. Li continues to make frequent visits to his parents and siblings in China. | Li Cunxin speaks with audience members |

Lily and Charles Foster with Li Cunxin

Mao's Last Dancer, in DVD, was released by Fox Home Entertainment exclusively at Target on May 1, 2011.

Photographs by Caleb Bryant Miller, property of Fox Home Entertainment .
Interview with Deborah Duncan, April 2011
Members Janet Goh and Soo Leong Liu visited the Great Day Houston set at KHOU Channel 11 to welcome television personality Deborah Duncan as our group's first Honorary Asian American Ambassador! Ms. Duncan lived in Taiwan for many years and has featured the Asian culture on her television show. She has participated in numerous events promoting Asian culture, including serving as a judge for the Miss Chinatown Houston Scholarship Pageant. Most recently, Ms. Duncan took viewers on a walking tour of Houston's diverse Chinatown.
Houston Chinese Traditional Music Group
On January 15, 2011 — declared by Mayor Annise Parker as Houston Chinese Traditional Music Group Day — the HCTMG, including AAA member Francine Di, gave its inaugural concert at the University of Houston.
The group has also established a monthly music salon with performances on the 15th of each month. HCTMG will publicize the location of the April salon soon.
Past salons:
Photos and news coverage of these and other events can be found at http://minyuehouston.blogspot.com/2011_01_01_archive.html.